Brisbane is oozing with a variety of amazing markets all over town. Whether you're after a gift for a friend, fresh produce, a bite to eat or a simply like to stroll and people watch, you're bound to find what you're looking for at one of Brisbane's local markets. From weekend produce markets, to late night foodie stalls, we've rounded up a hit list of all the best Brisbane markets you need to experience.
Friday
West End is home to one of the most eclectic, culturally diverse communities in Brisbane and their markets are no different. On Friday nights, West End comes alive, boasting an array of delights from across the world, as well as a kid's area so you can come stay for a drink and enjoy the live music!
When: Every Friday & Saturday, 4pm – 10pm
Where: 56 Russell St, West End
If you haven't heard of Eat Street, then where have you been! When it comes to food markets in Brisbane, it doesn't get much bigger (or better) than Eat Street. After moving just up the road in 2017, the destination became even bigger, offering 180 dining and entertainment options on Brisbane River. Eat Street is certainly one of the most popular markets in Brisbane and it's not hard to see why. Don't forget your stretchy jeans!
When: Every Friday and Saturday, 4 – 10pm & Sunday, 11am – 7pm
Where: 221D Macarthur Avenue, Hamilton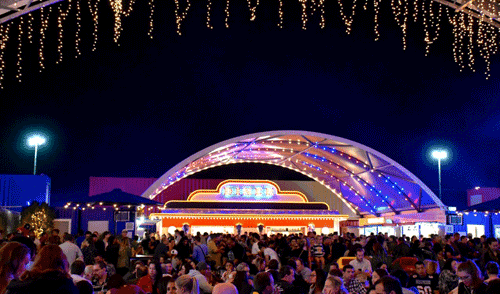 Source: Eat Street Northshore
Saturday
If you're after the perfect way to start your weekend, then look no further than Jan Power Farmers Market. Fortify yourself with a coffee and the paper, then choose from a range of delicious market breakfasts, before you pack your basket full of farm fresh fruit and veg, meats, seafood, small goods, sauces, olives, dips, cakes, bread, fresh herbs and oil… the list goes on. In case that wasn't enough to get you there, it's dog friendly too!
When: Every Saturday, 6am – 12pm
Where: Outside the Brisbane Powerhouse, New Farm
If you're a Northsider and heading into New Farm is out of the way, then don't worry, there are more markets in Brisbane for you to enjoy! For over 10 years, Kelvin Grove Village Market has been the heart and soul of the Kelvin Grove Village. With a range of art, produce, fashion, coffee and live music, you're bound to have a great time and take home some goodies.
When: Every Saturday, 6am – 11am
Where: Blamey Street, QUT Urban Village, Kelvin Grove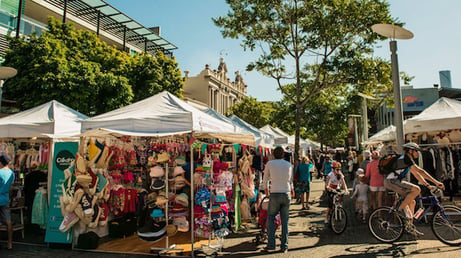 Source: Kelvin Grove Village Markets
Located at the iconic Brisbane Market, this market offers the largest variety of fruit and vegetables available in Brisbane. A selection of quality meats and poultry, fresh cut flowers, breads, baked goods, gourmet deli lines, a huge range of indoor and outdoor plants and lifestyle products are on offer with breakfast options, live music and coffee to accompany you while you shop.
When: Every Saturday, 6am – 12pm
Where: 250 Sherwood Rd, Rocklea
West End also has an incredible day time market, that is one of the most popular going around town. The fresh produce is top notch, the coffee selection is impressive, there's a wide mix of retailers and there's plenty of live entertainment. We recommend grabbing a coffee and bagel form Bagel Boys and sitting by the river – Saturday morning bliss!
When: Every Saturday, 6am– 2pm
Where: Davies Park, Montague Street, West End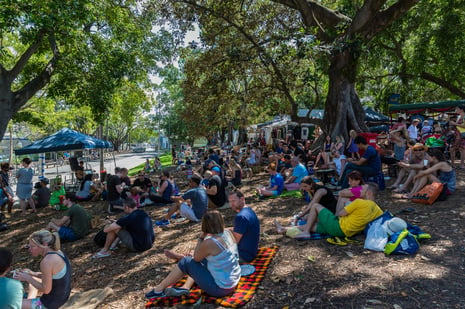 Source: Davies Park Market Facebook
If mornings aren't your thing then don't worry, there's still a weekend market for you. Introducing the Southside's answer to the inner north Eat Street Markets; a fabulous foodie destination of food trucks and street food stalls with live music and a shipping container bar. Each week, 60 of the best food trucks and street food vendors from Brisbane and surrounds join forces for a smorgasbord in the 'burbs. Eat your way around the world at this Marketta.
When: Every Saturday, 4pm – 9pm
Where: 1644 Logan Road, Mt Gravatt
Sunday
The Milton markets is the Inner West Brisbane's premium food farmers and lifestyle market. They are dedicated to supporting South East Queensland's best growers, farmers, painters, cooks, chefs, designers, bakers, fishmongers, butchers, baristas, juicers and artists. More than 120 stalls, live music performances, kids activities and more on are on hand for those keen to start their Sunday the right way.
When: Every Sunday, 6am – 12pm
Where: 47 Cribb Street, Milton
For over 30 years, Brisbane's Riverside Markets have been a popular gathering place for locals and tourists. Get some sun, fresh air and great food at the picturesque Brisbane Botanic Gardens and embrace that Sunday morning while you grab everything you need to get ready for the week ahead. The definition of easy like a Sunday morning.
When: Every Sunday, 8am – 3pm
Where: Brisbane City Botanic Gardens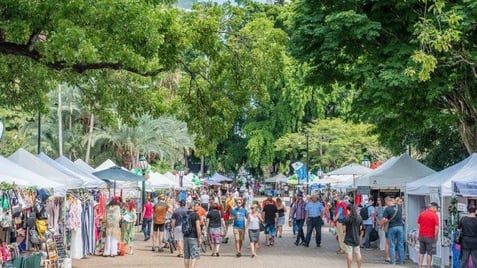 Source: Riverside at the Garden Markets
On a Sunday, Rocklea's expansive market space is converted to a completely different market. More than 350 stalls pop up to sell plants, collectables, new and used books, toys and more. If you frequent op-shops or are on the hunt for something that's been previously loved, the Sunday Discovery Market is a must!
When: Every Sunday, 6am– 12pm
Where: 250 Sherwood Rd, Rocklea
At Place Estate Agents, we are passionate about Brisbane and all of the wonderful things that come with it. These are just ten of our favourite markets in Brisbane, each reflecting the style and flavour of the many communities around town.
Interested in keeping up with all things Brisbane? Subscribe to our newsletter below.