Brisbane tourism operators have shown that the State's capital knows best when it comes to luxury accommodation and exciting experiences, collecting 10 accolades at this year's Queensland Tourism Awards.
Operating for over 35 years, the Queensland Tourism Awards recognise the outstanding achievements of the state's tourism industry, including individuals, businesses and events. In years gone by, awards have gone to operators in well-known tourism destinations; The Sunshine Coast, Gold Coast, and Far North Queensland. This year, Brisbane operators collected awards, highlighting the large and exciting transformation the city is undergoing.
The line-up of Brisbane winners included Fun Over Fifty, Minjerribah Camping, Pterodactyl Helicopters and Sirromet Wines. Most notable, were the Brisbane hotels who secured two out of three Awards in the Luxury Accommodation category. The Calile Hotel and W Brisbane are still relatively new to the scene, yet were awarded Gold and Bronze, respectively.
The Calile Hotel on James Street in Fortitude Valley is Brisbane's first urban resort. Anyone who has visited The Calile will not be surprised that this claimed the top position. The Calile combines architectural amenities with climate-centric spaces, fusing warm weather with warmer hospitality, ultimately creating a subtropical resort on a popular city streetscape. It's also home to the incredible poolside Greek restaurant, Hellenika.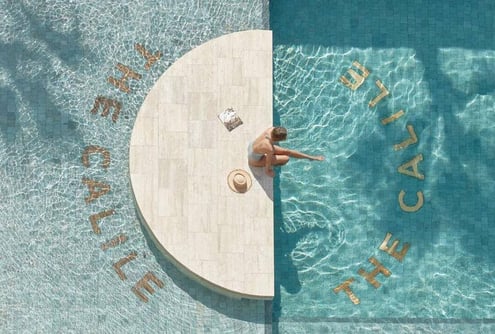 Pool details at The Calile Hotel.
These accolades across Brisbane represent the tourism, trade and transport boom fuelling the city's growth. Tourism Industry Development Minister, Kate Jones, said the Queensland Tourism Awards provided an opportunity to celebrate the effort that goes into making the Sunshine State a favourite with domestic and International tourists. "Congratulations to all Brisbane winners and entrants, their contribution not only supports their local economy but contributes to the backbone of Queensland's $27.2 billion tourism industry" she says (Queensland Tourism Industry Council).
It's an exciting time for Brisbane to be recognised, with more than 27.2 million international and domestic visitors flocking to the Sunshine State in the year ending June 2019. Tourists are interested in Queensland, and Brisbane in particular, because they want to experience the lifestyle offered by the likes of the Calile and Howard Smith Wharves. Most exciting, is that this is only just the beginning.
Brisbane City Council's "New World City Action Plan" outlines the future ambitions of Brisbane including a number of new major development projects, some of which are already underway. Most are projected to be up and running by 2022, each bringing its own unique quality to 'Australia's new World City.' These include the Airport Redevelopment, Queens Wharf, Brisbane Quarter, Brisbane Metro, Brisbane Live and the continuation of Howard Smith Wharves (The Urban Developer). With this pipeline, Brisbane is set to be Queensland's metropolitan Jewel with hopes of stepping onto the international stage as Australia's next 'world city'.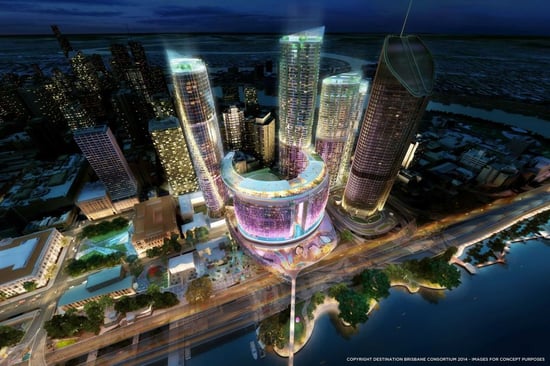 Render Image of Queens Wharf by night.
We believe Brisbane deserves all the recognition it gets, the wining and dining, urban villages, pleasant parklands, boutique hotels and everything in between – it's all right here. A sophisticated modern economy, cultural diversity, and world class industry capabilities support Brisbane's growing reputation as a global investment destination.
Place Estate Agents are specialists across the wonderful city of Brisbane and we can't wait to progress alongside it. If you want to know more of all things Brisbane and real estate, subscribe to our newsletter below.
Sources
The Urban Developer, 2016
Queensland Tourism Industry Council, 2019