We recently hosted our Annual 2-day Kick-start Event where our teams were immersed in specialised training, development and of course some celebration!
Trumped only by our Annual Conference (the event of all events) Kick-start is a highlight for all placers in the annual events calendar!
The event is all about getting motivated and putting yourself in the best possible position for the year ahead, which truly brings the biggest buzz.
Day 1 was held at Place HQ in our purpose built training rooms.
We were so excited to have Josh Phegan back in person again after a year or so of virtual sessions. The energy he brings to a room really is next level!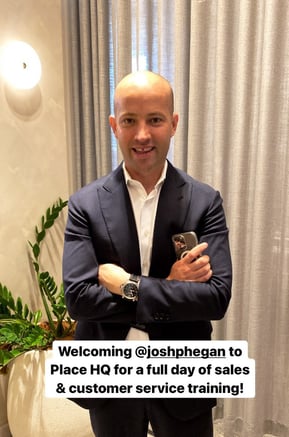 Josh is back at Place HQ! P.S. are you following Property Career?
Our training sessions cater for everyone, with dedicated sessions for agents at all performance levels, property managers, leaders and even a session for our team here at HQ, which is all about how we can do better for our clients.
It's always a fun day at HQ with our sales teams coming and going!
This year, we were lucky enough to spend Day 2 at the Howard Smith Wharves Rivershed.
The day started with our Quarterly awards - it's incredible to see how our agents are capitalising on Brisbane's fast paced market. Every quarter I continue to be impressed!
I also love the Place Values awards. These recognise people who are displaying our values of Respect, Innovation, Community and Excellence, which is just as important as any figure!
Well done to all award winners!
Then we got stuck back in to training! Our lineup included Damian Hackett, Josh Phegan, Fatek Charma from Propic, Heath Williams, Courtney Caulfield and Paul Curtain.
Kick-start certainly got me all fired up the year ahead and made me feel so grateful to work for a company that genuinely cares so much about our progression as a professional! I always walk away new ways of thinking of things and great lessons for work and my personal life.
My biggest learnings?
Speed, accuracy and execution are pivotal elements to being good at your job.
A tool for setting goals: ask your leader/manager/boss what your 'next 5' should be. This can be skill based, KPI based or anything else. Since doing this myself it has helped provide clarity to what else I can be doing on top of my day-to-day duties.
Remember to note down all the little achievements, not just the big wins!
Check out our highlights video!
Massive thank you to the people who make these events happen. Our Events Team: Lucy & Amy as well as CEO Damian and of course Pete Burgin.
Enjoying this content? Want to come to events like this? Click here to subscribe to our career & development newsletter and follow @propertycareer on Instagram for more like this!