Ah, the magic of the movies. There's something truly special about cosying up, watching a film on the big screen and getting lost in a spellbinding adventure!
Thinking of recreating this feeling at home? Want to skip the crowds and enjoy a blockbuster without leaving the house? We've gathered some essential tips for creating your own home cinema…
Keep the focus
What separates a home cinema from a media room? Other than the specific equipment (definitely organise this with a professional), it's creating a dedicated space that focuses on nothing but the screen that really sets the scene. You don't want to settle in to watch your favourite film just to be distracted by your children's colouring-in paraphernalia in the corner, right?
If you're building a new abode, consider a dedicated cinema room that can be separated from the main living areas. Renovators, large multipurpose rooms or bedrooms can be transformed into cinemas if they meet the right dimensions and can be closed off.
Limit ambient light
A home theatre is probably the only room in the house where you really want to restrict as much natural light as possible. To fully close off the rest of the world and immerse yourselves in the cinematic experience, consider ways light might be coming into the room.
If there are windows, seek out thick light-blocking curtains and shades – lining a whole wall in thick curtains will make a room really feel like a Gold Class cinema. Also, strip lighting can help create that cinema atmosphere, while luxury-lovers will be enchanted by a LED-dotted ceiling inspired by the night sky. Who doesn't fantasise about cuddling up and watching a film under the stars?
Enjoy a little quiet time
Much like with limiting natural light, a crucial part of creating the perfect home cinema is restricting any outside noise. In the planning stages, discuss sound-proofing the room with your builder by adding a second layer of drywall or gyprock.
Another effective idea is to install a solid door, rather than a hallow-core version.
Get the right look

While you're most likely to have the lights off when spending time in your home cinema, don't overlook its colour palette. Choosing a deep shade that helps you to feel cocooned in the space is a fantastic idea, with rich red tones proving a popular option. Why? The retina in your eye is apparently composed of light-sensitive rods that don't pick up on colour as easily. When you enter a darkened room, these rods take over and begin filtering out colours; red is the first to go because of its wavelength.
Deep greys can also be effective, while warm brown tones can create a cosy atmosphere. One last tip – limit any mirrored or glass surfaces as much as possible to avoid reflecting the images on the screen.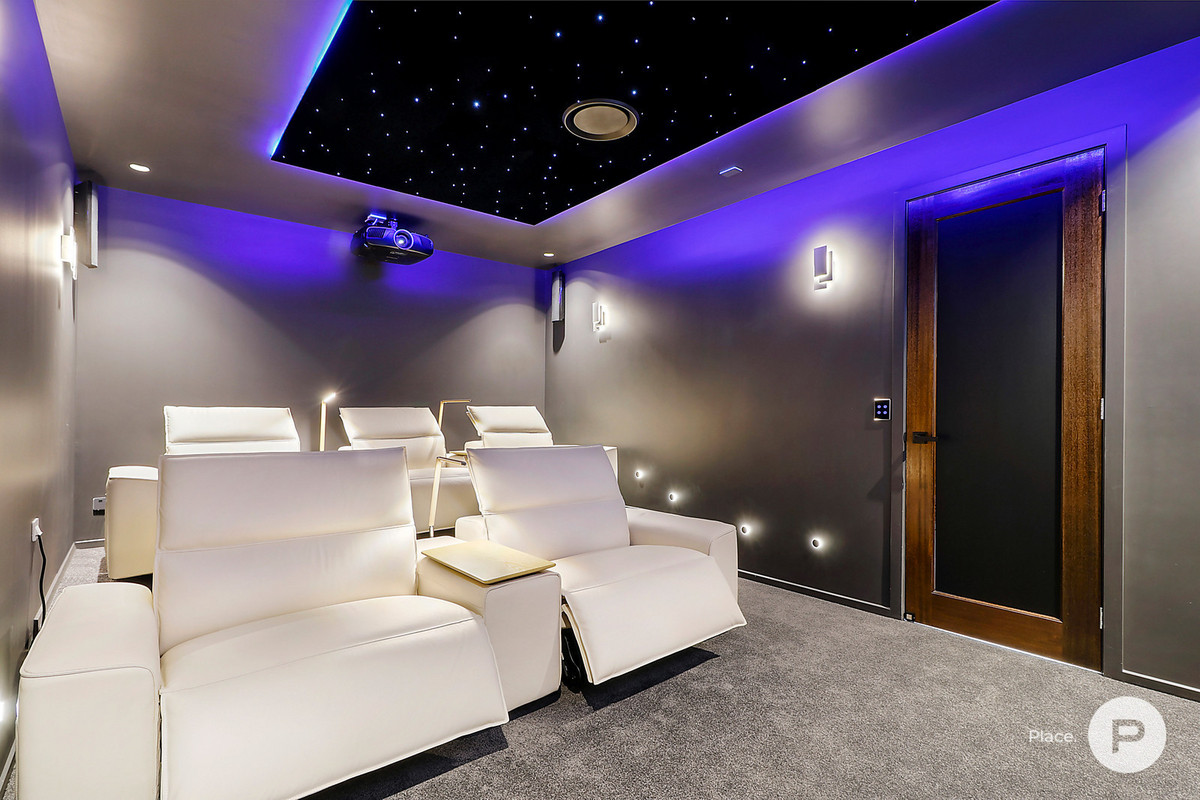 Comfort is key
If you've ever sat in the very front row of a packed sold-out theatre, you'd be familiar with the uncomfortable feeling of being positioned right in front of the screen. To get the full picture, the high fidelity audio/visual reproduction standards group THX (as seen at the beginning of many famous films) recommends dividing the screen diagonal in inches by 0.84 and using that as a guide for distancing your chairs. Budget and space permitting, creating an elevated platform to form multiple rows of seating is also suggested – check with your builder if this is possible.
It's also crucial to choose the correct chairs for the space and your needs. Recliners are a go-to for a reason but opt for a mix of deep pillowy couches and occasional chairs if you prefer a more contemporary and sophisticated look.
Storage is the solution
Electrical cords, remotes, batteries – you probably don't want to keep all that out on display where it can be potentially lost or damaged. When planning your home cinema, look into clever storage solutions and integrate cabinetry or cupboards into the space.
For something fun, invest in a wet bar or storage for a wine fridge and snacks if you can. Everyone loves a visit to the candy bar, plus it'll stop you from racing back and forth to the kitchen for treats and missing the movie! Just sit back, relax and enjoy the film…
For more home improvement ideas and to keep up-to-date with all things Brisbane real estate, subscribe to the newsletter below.