Construction is one of the largest
industries in Australia and is closely
linked to housing.
High demand for housing drives
the construction industry's growth,
whereas increasing costs of labour
and materials can be a key driver for
demand and therefore adjust values.
Ultimately, changes in either industry usually manifest in the other. Currently, the industry is facing ongoing challenges, driven by numerous factors including labour and material shortages, as well as a changing economic environment.
Let's take a look at what the industry is experiencing and how we might expect this may flow into the Residential Real Estate Market.
What's causing the issues in the construction industry?
There are two main reasons.
First, the government's HomeBuilder scheme, coupled with historically low- interest rates, brought an influx of demand as many Aussies sought to build a new home.
This exacerbated the industries labour shortage and drove up hiring and subcontracting costs. With migration only just starting again, there is a shortage of construction workers around the country. If you speak to your local builder or tradesman, chances are they are spread thin.
Secondly, supply chain constraints have heightened demand for available stock and inflated prices. The cost of construction materials for residential properties is up 15.4% year on year, according to data from the ABS.
This is the highest recorded rate the industry has ever seen. Excluding the year GST was introduced. Supply chains will adjust in time, but construction costs tend to be sticky.

Where's the market right now?
The shortage of labour and equipment has led to a backlog of projects, with companies having to delay builds or put them on ice, as well as deterring many developers from commencing construction projects.
Decreased demand and delays are evident in the 10% year-on-year decrease in active construction projects nationwide and a whopping 23% year-on-year decrease in Queensland.
With the HomeBuilder scheme now retired, interest rates expected to increase further, and input costs not anticipated to abate in the near term, building houses and apartments is set to remain more expensive for some time to come.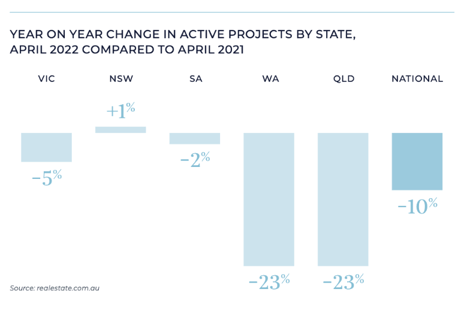 What can we expect to see in Brisbane?
It is easy to assume that these issues only effect builders, developers and those building properties, but there are many knock-on effects to these challenges, that cause shifts in supply and demand:
Fewer homes, both apartments and houses, will be built. Homes that are in the pipeline will be delayed, in some cases indefinitely.

This will hinder new homes from coming to market in the short-medium term.

Where builds do go ahead, the homes will come at a premium.

Upgrading buyers may also shelve plans to build or renovate their properties and will instead look to purchase a 'turn-key' home in the existing market. We will see increased demand across apartments and houses.

This comes at a time when we are also having increased demand for rental accommodation. Unlike house prices which are influenced by interest rates and are slowing as a result, rents are going up and will continue to increase with international borders reopening and migration starting up again. There will be a battle for accommodation between owner-occupiers and renters.

Development opportunities such as knock-down-rebuilds, and vacant land will likely sit on the market for longer.

That being said, land is a finite resource and those with the means to do so may look to purchase in a softening market and commence their project when cost pressures fade, though it is unclear when those favourable conditions will return.
If building or renovating is on your radar, it's essential that you do not overcapitalise. Based on their vast experience, Place Agents can offer additional services such as reviewing house plans, assisting in site selection and advice on the feasibility of residential properties in Brisbane.
If you have any questions concerning building or renovating your property, reach out to your local area expert.
Subscribe below to keep up with all things Brisbane Real Estate.