Thanks to Domain, you can settle the subjective debates about what suburb offers more than the rest. They've released an official list of the most liveable suburbs and have the data to prove it.
But first, what is 'liveability' and how is it measured?
Liveability is defined as the sum of the factors that add up to a community's quality of life – including the built and natural environments, economic prosperity, social stability and equity, educational opportunity, and cultural, entertainment and recreation possibilities (livable.org).
That's exactly what the Domain Liveable Cities study draws on. Supported by a wealth of science, the study authored by Deloitte Access Economics and Tract Consultants aims to rate suburbs based on their capacity to provide quality of life for their residents.
So, why measure liveability? It's easy to rank suburbs based on prices, but suburbs mean a lot more to people than just a dollar figure. While still important, peoples choice to live in one suburb over another is determined by several factors. Information in the Domain Liveable Cities study arms Australians with plenty of insights about the suburb they live in, and the one they may consider moving to next.
In total, 260 suburbs in the Greater Brisbane area were given a score in each category, and based on those scores, were given a weighted average score out of 10 and ranked according to the results. Categorical indicators include access to retail, education, congestion, open space and crime rates.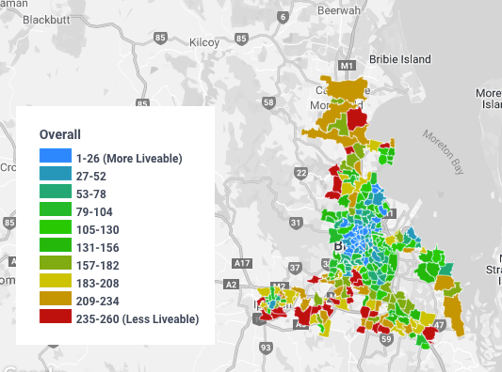 The study revealed some interesting trends about Brisbane, but most interesting was that the top ten most liveable suburbs were all in the inner north of Brisbane. Extending to the top 20, 19 were on the north side of the river, with South Brisbane representing the Southside at number 19. Sam Pourmoradian, the Principal Town Planner at Tract Consultants said the top 10 suburbs all scored within a very close range of each other. "The real difference between the suburbs lies in the relevant indicators. For example, Alderley is among the highest suburbs in terms of public transport and open space, while Wilston, which scored second place, did not score highly in open space – but scores higher on employment proximity and cafes and restaurants," he says.
Here's a breakdown of Brisbane's top 5 most liveable suburbs, all of which scored a perfect score of 10.
Alderley
No suburb has it all, but this one came pretty close. Located in Brisbane's inner north west, Alderley is a leafy suburb just 7km from the CBD. Residents enjoy plenty of open spaces and relatively little traffic congestion.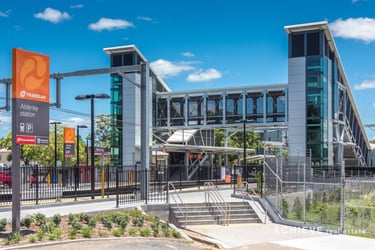 Wilston
The suburb scores very highly for its cafe culture, open space, tree cover and walkability. The streets are full of 1920's character but with all the modern amenities. Wilston is also one of the highest ranked suburbs for access to trains, as well as boasting a beautiful topography with rolling hills.
Ascot
Ascot has long been considered one of Brisbane's premier suburbs. It ranks highly across a number of indicators, including an extremely low for rate of crime. Ascot is described as having a small town feel in the middle of the city, making it highly desirable.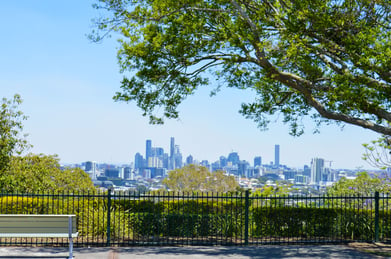 Paddington
Known for its abundance of cafes, culture and retail strips as well as the hilly landscape with incredible city views it's no surprise Paddington came out so high in the list. In fact, it was number one for topographic variation. The cottages and Queenslanders that dominate the suburb are changing hands and therefore the suburb is receiving a major facelift with impressive property renovations.
Newmarket
Rounding off the top 5 is Newmarket. Only five kilometres form the CBD, the suburb scores highly for culture, cafes and retail. Once you step away from the hustle and bustle of the main hub, Newmarket switches gears. The back streets have a genuine community feel, with multiple green spaces and beloved family homes that have gentrified over recent years.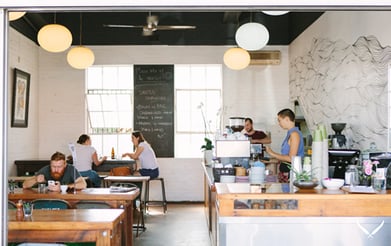 For those wondering, Archerfield claimed the Wooden Spoon. Best known for being home to Brisbane's second airport and the centre of the city's general aviation industry, Archerfield is a mix of light industrial uses and affordable housing that can provide attractive options to cash flow investors and entry level renovators.
For the full list, as well as interactive map, click here.
Whether it's the most liveable or least liveable suburb, Place Estate Agents have a dedicated local expert ready to help you find your happy place.
If you want more of the latest Brisbane and real estate news, subscribe to our newsletter below.