2021 proved to be a standout year for the Brisbane property market with house values across more than 150 suburbs in Greater Brisbane showing distinct growth trends that have not been seen in at least two decades.
Data by CoreLogic indicates that the 'pandemic boom' was driven by multiple factors, including low interest rates, fiscal and institutional support for households, high household savings and relatively low levels of advertised listings.
Chief Executive of the Real Estate Institute of Queensland (REIQ), Antonia Mercorella stated that growth in 2021 swept across most of Greater Brisbane.
"Historically, we would see pockets across Greater Brisbane experiencing strong growth, but all parts are on the rise," Ms Mercorella said.
"Some of the best performers in Brisbane were suburbs between 5km and 10km from the CBD."
Herron-Todd White identified in their latest residential report that with prices rising across Brisbane, buyers began to search outside of the booming-inner city suburbs.
This resulted in an increase in property purchases across growing suburbs including Wavell Heights, Chermside, Nudgee, Hendra, Banyo, Mansfield, Mount Gravatt and Tarragindi.
This positive trend was seen across numerous Brisbane suburbs with some making CoreLogic's Best of the Best in 2021 list.
The list recorded suburbs that experienced the greatest change in sales value over a 12-month period with suburbs across Brisbane West, the Inner-City and Brisbane South experiencing the greatest change in increased house sale value.
Similarity, suburbs in Brisbane East, Brisbane South and further out to Beaudesert and Ipswich experienced the greatest change in increased unit sale value.
The tables below indicate the Brisbane suburbs that saw the highest 12-month change in sale values (the percentage difference between the hedonic home value index as at 30 November 2021 compared to 12 months ago) for houses and units.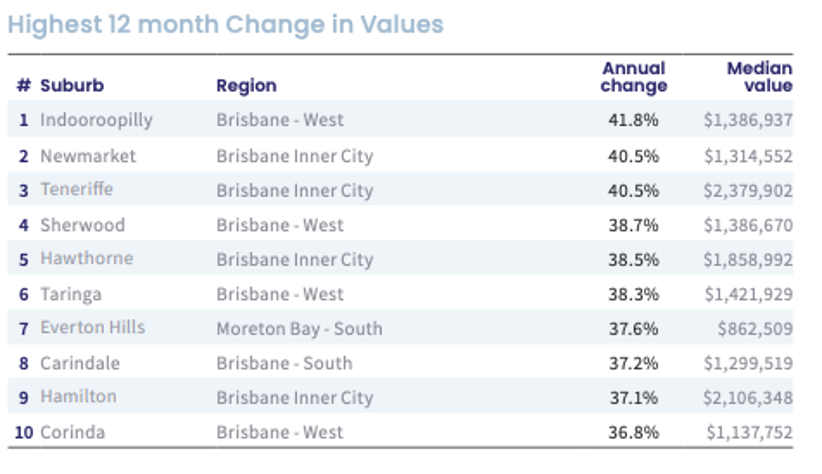 Highest 12 month change in house values, CoreLogic's the Best of the Best 2021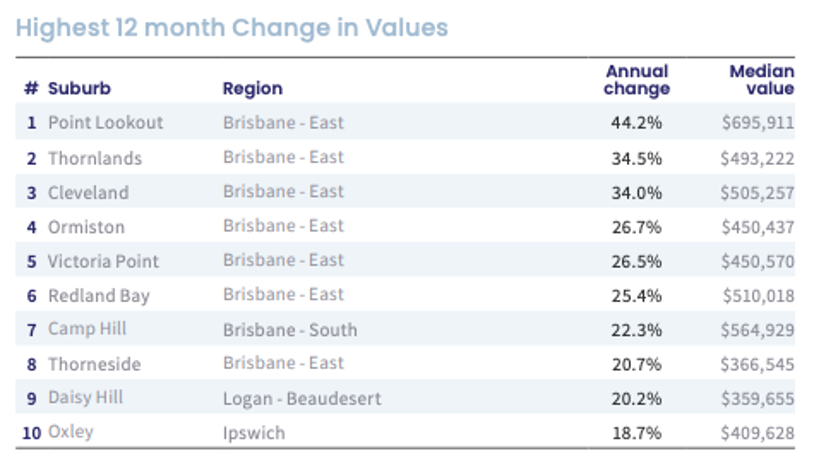 Highest 12 month change in unit values, CoreLogic's the Best of the Best 2021
While we're only early days into the new year, experts say the size of the growth, the positive change, and the number of suburbs where house prices rose sharply in 2021 was 'staggering' and this trend could continue in 2022.
Managing Director of Place Estate Agents and Principle of Place New Farm Sarah Hackett said that any sign that Brisbane's property market was starting to ease had yet to be seen.
"It hasn't stopped, in fact it has gotten busier…We have never had this many interstate inquiries over the Christmas period and we have started the year off again with so many interstate inquiries.
The beginning of 2022 is shaping up to be marked by a surge in demand for regional lifestyle markets, similar to the surge which followed the 2020 lockdowns.
With the Queensland interstate borders now open and international travel restrictions ending, we are only just starting to see the impact of interstate and international demand.
This year is already showing signs of an exciting year for property and Place are excited to be your trusted voice when navigating the 2022 Brisbane property market.
If you'd like to stay up-to-date with all things Brisbane real estate, subscribe to our eNewsletter below.