While 2020 was a rollercoaster for the Brisbane Property Market, 2021 was a rocket ship! If you're looking for a summary of the biggest changes and learnings from the last year, you've come to the right Place!
Aided by a raft of government incentives and low interest rates, Brisbane's market bounced back from the initial pandemic blip in March 2020 stronger than anyone could have imagined. It was then thought by September 2020 that the market would begin to show signs of slowing down, however, as we now know, this was not the case.
Place CEO Damian Hackett says that the last 12 months in the Brisbane property market have been the strongest and fastest growing market he has witnessed in his 30-year real estate career.
"Prior to this, our Brisbane market was quietly going about its business with modest gains in a steady market whilst Sydney and Melbourne charged ahead. Then we had COVID-19 and consequent lockdowns and restrictions, and it was hard to predict what was going to happen next. Little did we realise it was going to be our strongest market yet."
"As Queensland returned to 'the new normal,' the outbreaks and lockdowns that continued in the Southern States brought lifestyle aspirations into focus. Suddenly, Queensland's warm climate, amenities and comparatively affordable housing looked better than ever. As a result, we've experienced the largest internal migration numbers to Queensland in 16 years."
"There has been a consistent trend of stock levels not meeting demand, which has been the main driver in the price growth Brisbane has experienced. This, along with low interest rates and eased lending restrictions has pushed buyer demand to record highs. Strong markets can often be exclusive to certain sectors and regions, but this price surge has been inclusive of every market, even rentals."
"The reality is it is impossible to predict what will happen next. In saying that, the only factor we can see impacting the pace of the market is a rise in interest rates, which will inevitably happen. The outlook for the next 12 months is that Brisbane property prices will continue to rise, unless of course we have an extraordinary, black swan event."
Our Brisbane Property market covers ten year sales cycles, Brisbane's best performing suburbs, the most affordable suburbs, most prestigious suburbs, and more.
Click here to get your copy of our Brisbane Property Market Report.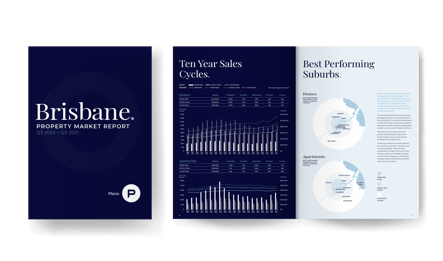 To stay up to date with all things Brisbane Real Estate, subscribe below!