Place Estate Agents were pleased to report a 100% Auction Clearance Rate on the weekend just passed. Chief Auctioneer, Peter Burgin, talks through the triumphs of the day and why Auctions continue to be the most effective way to sell your home in Brisbane, especially as we get closer to the Spring selling season.
Auctions across Brisbane's prime markets attracted huge crowds and high emotions over the weekend, as buyers battled to put a roof over their heads and tightly-held homes went to market for the first time in decades.
Agents from the Place network took six properties to auction on Saturday, with all selling under the hammer in front of huge crowds and an average of 7 registered bidders per Auction.
Another one scheduled to go under the hammer on Saturday did not even make it to Auction day, with the completely original 1920s cottage at 28 Victoria St, Kelvin Grove, snapped up two weeks prior.
A two-bedroom home in Graceville, marketed by Lead Agent Matt O'Neill had a remarkable four registered bidders and a 50 strong crowd spectate as it sold for $995,000.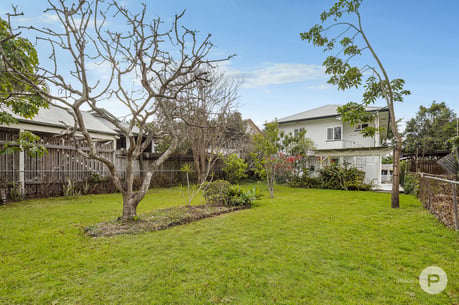 43 Allardyce Street, Graceville
It was on the market for the first time in four decades, with property records showing the vendors bought the home in 1980 for an unbelievable $34,000.
Place Chief Auctioneer Peter Burgin said the successful bidder for number 43 stood directly in front of him with her "game face on".
"She went to war with everyone," he laughed. "She was brutal.
"Anytime someone placed a bid, she was back at them with another $5000.
"But at the end, when the hammer fell, the emotion just overwhelmed her.
"She was on a mission to buy that home and it was so lovely to see that real estate means something, that it is not just some transaction."
Earlier that day, Gary Eaton sold number 25 on the same street for $955,000 in front of seven registered bidders and almost 100 spectators.
A house at 1 Taylor St in Annerley, which was on the market for the first time in 48 years, also captured buyers' attention, with eight registered bidders.
1 Taylor Street, Annerley
It sold at auction for $2.055 million with Yani Bekker and Zac Fields of Place Annerley.
Property records show the original owners bought it for $29,000 in 1975, with the house passed down to the family.
"Annerley can be a tough market to pick but this was a beautiful character home," Mr Burgin said.
"The sellers were very emotional as it wasn't about the money but about the legacy.
"But it is going into good hands, with a local family making the successful bid.
"The husband was on the phone, his wife making the bids and when the hammer fell she basically melted."
On a 810sqm block with subdivision potential, the traditional Queenslander has six bedrooms, open plan living and dining spaces, timber decks, fire pit area, and tropical gardens.
Over in Enogerra, a retro red brick house at 2 Harley St sold for $1.35 million in front of seven registered bidders and a crowd of 80-plus.
But it was the backyard that was the hit, offering pristine lawns, established gardens, a pool and an entertaining deck.
It last changed hands for $695,000 in 2016, with the median sales price in Enoggera soaring 69.4 per cent in three years to $1.2 million, according to the latest REA Market Trends report.
A young couple made the successful bid for their first home, Mr Burgin said.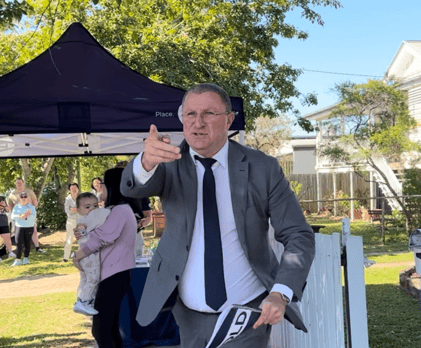 Chief Auctioneer Peter Burgin
Over in Sunnybank Hills, 4 Ribbonwood Street attracted six registered bidders and sold under the hammer for $881,000, while a riverfront apartment at 203/57a Newstead Terrace in Newstead earned its owner $500,000 profit since it was purchased for $1.206 million in November 2019.
It sold under the hammer for $1.735 million with four registered bidders with Cathy Richards of Place Bulimba.
Mr Burgin said sellers would be "mad" not to consider going to Auction in the current market.
"Around 75 per cent are selling at Auction, but even those that don't, they are selling just days later," he said.
"The number of registered bidders has been increasing again, and there are more buyers than stock so there is healthy competition."
He said Auctions were attracting a mix of buyers, including local and interstate buyers.
While investors "are out there", he said they were looking for value and yields while owner-occupiers were looking for security to break the rental cycle.
"They want a roof over their heads, they want the security of having a home," he said.
From the 26th to the 30th of July, Place Auctions will see 33 homes go under the hammer across Brisbane's prime markets, all supported by Place's market-leading Auctioneers and the Industry Exclusive Place Auction Patrol. Learn more about Place Auctions, here.
If you are interested in selling your home with Brisbane's most trusted Auction team, get in touch with your local Place Agent, here.
If you would like to receive Auction Insights straight to your inbox, subscribe to ePlace below.