Delivering Brisbane's Best Auction Experience since 2002.
At Place, we have been advocates of the Auction method since our doors opened. Historically, Brisbane Real Estate has favoured more traditional methods of sale and we have been at the forefront of educating the market on the benefits of Auctions. At their core, Auctions are an opportunity to transact property in a transparent, open forum environment with set conditions. However, at Place, they are much more than just that.

We are always trying to improve the Auction experience and are proud to have remained ahead of the curve when it comes to innovation in the Auction space. The market conditions in Brisbane have meant that Auction demand has significantly increased, and we have relished the opportunity to create the best auction experience both on-site and at our purpose-built in-room Auction facility.
Our Auctioneers
At Place, we have five industry-leading Auctioneers available to Auction your property. At the helm, is Chief Auctioneer Peter Burgin, who has built himself a reputation as one of Queensland's best and most highly skilled auctioneers. In his 20 years of calling Auctions, he has won the REIQ Auctioneer of the Year Award and since then, has gone on to be the Chairperson of the REIQ Auctioneering Chapter and devotes his time to developing new Auctioneering talent in the industry.
Place Auctioneers pride themselves on being readily available to clients for the entirety of the campaign, to ensure they are comfortable every step of the way.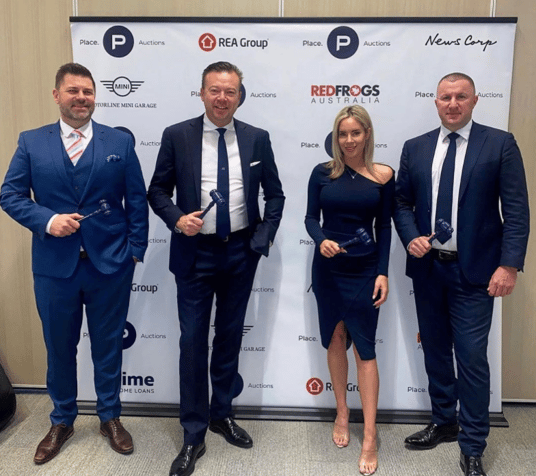 Place Auctioneers Glenn Bool, Paul Curtain, Tara Kelly and Peter Burgin.
Industry Exclusive Place Auction Patrol
The Place Auction Patrol is an industry exclusive Auction experience for sellers and buyers. These unique community events have set the new standard for Auctions in Brisbane with all Auctions boosted to the Patrol's 30,000+ followers.

One of the benefits of choosing Place is our team scale, which allows us to have 10+ agents to assist in the outcome of the day. Founded in 2020, The Place Auction Patrol are a team of real estate professionals who each play a key role in creating the perfect Auction Day experience. The Auction Patrol fundamentally allows an agent to walk in and out of an Auction with no added stress so that they can be readily available to support their client.
Our commitment to you
Place Estate Agents was established in 2002 with a clear vision: to be Brisbane's best residential real estate agency. Today, Place dominate the Brisbane market with our focus solely dedicated to this city. Auctions are a large part of our business, and we are committed to providing Brisbane's best Auction experience in the hopes that we maximise the value of what is someone's largest asset.
Collectively, Place have had over 1100 Auctions across Brisbane in 2021. This is a testament to our unwavering belief in Auctions as a method of sale as well as our commitment to lead the industry in Brisbane.