It's time to grab your running shoes, as the long awaited Moggill District Sports Park has officially opened and is ready to be put to use!
This new multi-sport facility in Brisbane's Western suburbs boasts 2 AFL/cricket ovals with field lighting, 4 tennis/netball hard courts, a children's playground, a dam, 178 parking spaces and various amenities including BBQ's and a canteen.
Located at 3660 Moggill Road, Moggill, the 9-hectare site was purchased by Brisbane City Council over 10 years ago for $2 million. The Moggill District Sports Park will provide district-level sporting facilities to the wider Moggill, Bellbowrie and Anstead communities.
Moggill District Sports Park will also be the home of the Moggill Mustangs AFL club.
Although the Moggill Mustangs were established in 2011, the sports club has never had a designated home ground. The club hosts both Auskick and AFL teams which cater to kids aged 7 to 17, and thanks to this new multi-sport facility the club will have goal posts for the first time in its history. A stable home ground will allow the club to grow their membership base and flourish in the local community.
Moggill District Sports Park will also provide an opportunity for the kids of Moggill to get out and try one of the many sport options offered at the new facility.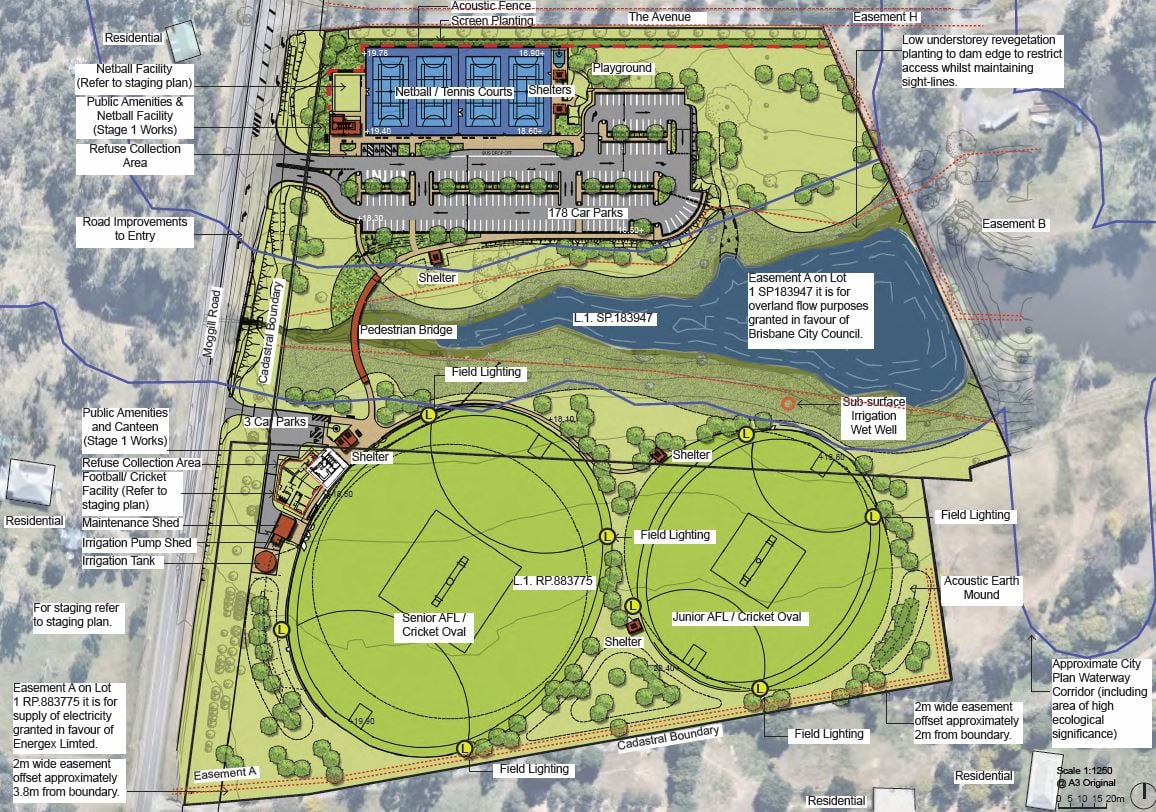 As part of the Brisbane City Council's commitment to building an active city, they provided most of the funding for this multi-sport facility.
Projects like this mean that Brisbane residents and visitors alike can enjoy access to parks and recreational facilities.
In addition to the funding by the B.C.C., the multi-sport facility the Queensland Government contributed $1.5 million and AFL Queensland generously donated $200, 000.
Councillor Kate Richards of the Pullenvale Ward says, "By 2031, there will be more than 1000 people who live within five kilometres of the Moggill District Sports Park and benefit from the new netball, football, tennis and cricket facilities."
Located 19 kilometres from the CBD, it's a common misconception that Moggill lacks the amenities found in your typical Brisbane suburb, however this isn't the case.
Place Graceville Zac Ryan, who sells a high volume of property in Moggill, Bellbowrie and Anstead, says that the new sporting facilities will positively benefit the community.
"It's great to see new infrastructure in Moggill as I believe that the new multi-sport facility park will bring outside interest to the area," Zac said.
"It will positively impact property prices mainly because suburbs with more amenities draw more interest from families. We now have three sporting fields around the area, great schools, reliable public transport and a community hub, so it's providing families with a great incentive to move to Moggill," he said.
If you're interested in finding out more about property in Moggill, contact Zac Ryan from Place Graceville today.