Travelling along the west-bound Warrego Highway, you'll come across a magnificent rural landscape dotted with time-worn Queenslanders and huge acreage properties. It was on one of these journeys that Lexine and Kieran Moloney discovered a weathered 1800s homestead and decided to take on the challenge of transforming it into a sophisticated prestige residence. What followed was one exceptional adventure with truly phenomenal results…
Faced with a crossroads in their lives, Lexine and Kieran opted to change scenery when work required them to relocate to Ipswich's west for three years. "We moved out to a rental with six-week-old twins but really wanted to find a property we could call home, as well as one that had potential," explains Lexine. "We came across this stunning home on large acreage and could see that it had great bones."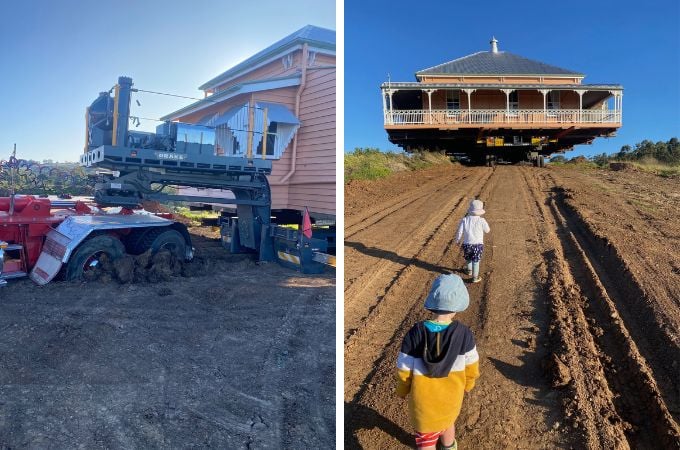 Walking through 56 Minden Post Office Road in Tallegalla at inspection, the couple knew the 19th-century homestead required plenty of work but that it would definitely be worth the effort. Boasting a not-so-functional layout and a collection of unique features (including a shower positioned off the front verandah), the property charmed Lexine and Kieran with its breathtaking outlook and fascinating history. "The house dates back to 1880 and belonged to the prominent Weismann farming family," said Lexine. "It seemed to be quite a local landmark; we've found news articles from the past that mention the Weismann farm and the roads leading to it."
Determined to make their mark, the couple then spent the next 12 months planning the property's renovation and worked on its transformation over 15 months. Along with restoring original details such as original hoop pine floors and decorative fretwork, the project also required relocating the historic homestead to a more elevated position. "A truck carrying the home was pulled up by two excavators but unfortunately it was right after the big rains of 2022 and it got bogged at the top of the hill," remembers Lexine. "Whilst the ground felt dry, the truck sunk under the weight of the house!"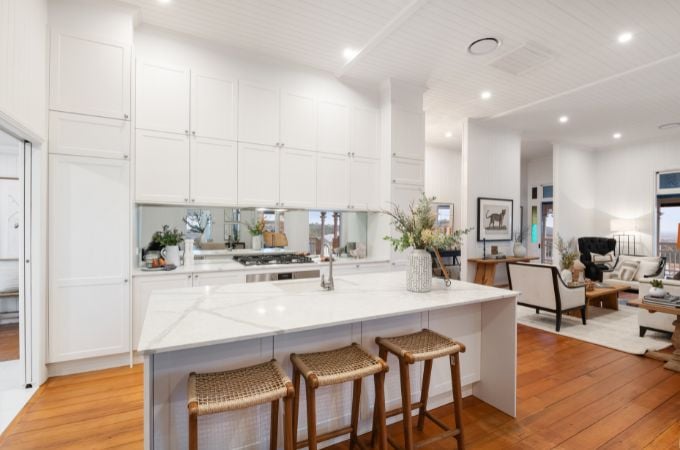 Finally secured in its new location, the residence was then meticulously updated with outstanding care and attention-to-detail. "We really wanted to do the house justice and make it special," says Lexine. "We looked at current trends and tried to merge the old with the new for a classic but modern country look."
Set amongst 12.33 hectares of undulating hills and verdant bushland, the home complements its spellbinding surrounds with a crisp white colour palette and natural materials. Showcasing lofty ceilings, VJ walls, ornate breezeways and a wood-burning fireplace, the residence perfectly balances a sense of liveable luxury with functionality.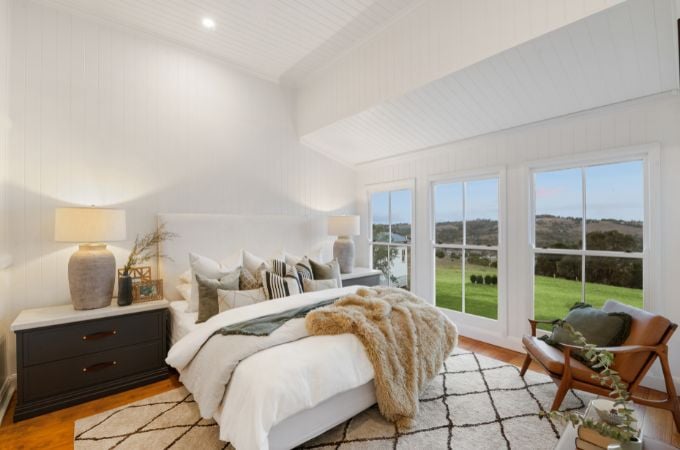 Framed by a grand wrap-around verandah synonymous with heritage homesteads, the residence now encompasses a spacious open-plan living and dining area bathed in natural light. An immaculate adjoining kitchen is accompanied by a large butler's pantry, while an ensuited master bedroom is set away from the home's three other bedrooms and main bathroom.
Equally as spectacular as the home's interior is its extraordinary outdoors. Benefitting from a luxe in-ground swimming pool that invites you to cool off and take in the panoramic vista, the property also has a versatile pool house with a full bathroom and kitchenette. "When we purchased the property, there was an old grain shed that apparently used to be the second kitchen for the original homestead," says Lexine. "We raised it up, restored the building and turned it into a second dwelling that could be a work-from-home space or guest accommodation."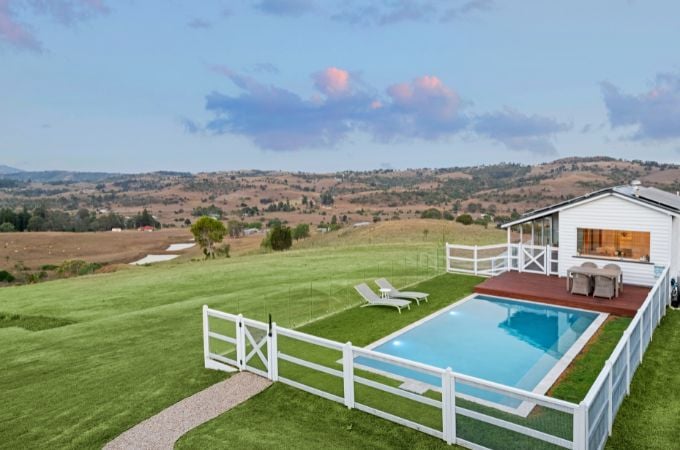 Adding to the residence's appeal, newly-established gardens pay homage to the local region and fit perfectly within the landscape. "We moved a beautiful big bottle tree up from lower down in the paddock," says Lexine. "It took a 12-tonne excavator to get it into place! We agonised over every detail with the whole renovation but I think the care and consideration now shows."
Looking back over their time at 56 Minden Post Office Road, the couple agree that there's something undeniably special about the region. "We've loved the space and the views," says Lexine. "Tallegalla is such a beautiful area with fresh fruit and vegetables sold down the road, plus coffee shops and fresh-baked pastries from the old pie cart nearby."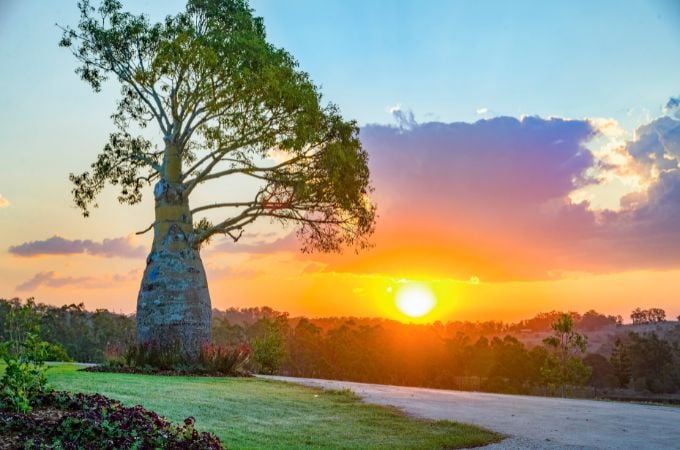 Promising to capture the attention of families, luxury-lovers and those seeking a rural escape, the property offers an incomparable lifestyle. "Our children had space to roam," says Lexine. "We loved that we could walk up the hill on our property to fly kites and have a picnic." One word – idyllic.
Currently for sale with Place Graceville Lead Agent Paris Arthur, the residence will be going under the hammer on Friday, November 24. Click here to read more about the home or to register your interest.
For more case study stories or to keep up-to-date with all things Brisbane real estate, subscribe to the newsletter below.