What's not to love about a Queenslander? They are rich in history, offer a sense of grandeur and can often be hidden from the public eye. But now, some of Brisbane's grandest Queenslander homes are on the market with agents from Place for the first time in decades.
These homes form part of Brisbane's heritage and character buildings register, which reflect the best of Australian architecture and the city's local history. Once upon a time, these homes were loved by only Queenslanders but more and more people are starting to see the sheer beauty in what these homes can become with a little bit of TLC.
Homes like this don't come on the market often, but when they do, the market goes crazy for them! It also provides us with a rare chance to take in some of the city's past and boy, do they have some stories to tell!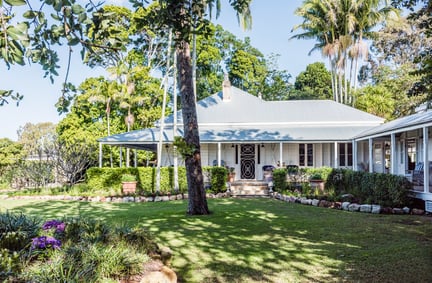 Birkdale House, an 1880s homestead, once sat grandly atop a vast acreage on the outskirts of Brisbane. Today, it's nestled amid modern homes in a quiet cul-de-sac in the suburb of Birkdale and has received the ultimate makeover by renowned Interior and textiles designer, Anna Spiro.
In a post online, Anna explained that the house has all the things you associate with the dream Queenslander: fireplaces, claw foot baths, big verandas, large block of land, pool, a rich history, name and a wonderful garden. Anna has certainly left her touch on the home however, the homestead remains in its original condition with all heritage features, making it a rare commodity.
Marketing Agent Sarah Hackett says that the home is so impressive that it takes more than one inspection to take it all in. "There's that much beauty going on, and it starts from the moment you enter."
This sale is also unique, because if you happen to be a fan of Spiro's work, the offer comes with the chance to purchase the house with part, or all of the furniture included.
The Heritage property at 27 Roger Street, Birkdale is open to Top Offers closing at 4PM September 15 with Sarah Hackett of Place Bulimba.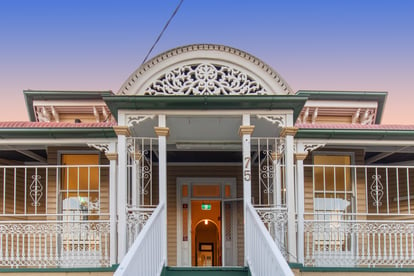 'Linwood' is an 1890's, federation, colonial Queenslander and is widely regarded as one of Coorparoo's most recognisable statement homes. Positioned on 1,220m2 of land, just 4.5km from Brisbane's CBD and offering flexible zoning, 'Linwood' is a once in a generation opportunity to secure a large parcel of Coorparoo's history.
Marketing Agent Ben Smith says that he is thrilled to have the opportunity to represent the State Government in the sale of 'Linwood'. "'Linwood' is a special piece of Coorparoo's history and I'm absolutely honoured to have been given the opportunity to sell the home. It's the fourth home, in recent years, of significant historical relevance I've been fortunate enough to sell and there's definitely a certain feeling you get when walking through these properties, as you take in the stunning original features you can't help but think "if these walls could talk". 'Linwood' is a really special opportunity, not only due to the historical aspects but the chance to secure 1,220m2 of blue chip real estate just 4.5km's from Brisbane's CBD seldom presents itself."
This building was built in 1897 by William Lahey Nicklin, who married Ada Hipwood, daughter of James Hipwood of Surrey Hill (now known as Welwyn Crescent & Letchworth Road), the name 'Linwood' is an amalgamation of the family names, Lin from Nicklin and wood from Hipwood. 'Linwood' was originally a single storey, low-set, veranda-style, elite home with an ornate veranda en-trance, cast iron lace balustrade and winged brackets.
William Nicklin's eldest son inherited the property in 1956, then subdivided and sold off the estate. Since then, it has been raised to provide better utilisation of the sub-floor and side verandas have been closed to afford privacy. The property was then sold to the Queensland Government in 1975 and has been in operation under the direction of Queensland Health.
'Linwood' is being Marketed exclusively through Ben Smith, Place Woolloongabba and is For Sale by way of Tender, with offers closing September 23rd at 5PM.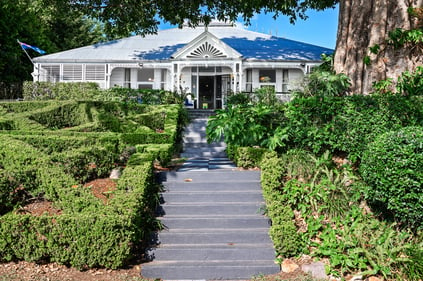 Queenslanders on large parcels of land are a hot commodity in any suburb, but even more so in the inner-city suburb of New Farm. Introducing one of Brisbane's landmark estates: Amity House.
The impressive timber villa – the last of its kind in the area – was built for prominent Queenslander Thomas Welsby in 1892. A successful businessman, politician, keen yachtsman, rugby player and local historian, Mr Welsby lived in the home until his death in 1941, with the property remaining in the family until 1952, when it was bought by the CSR Ltd refinery close by. Amity House was later purchased by the Commonwealth in 1980 and used as a naval residence, connected to the HMAS Moreton. It's current vendor is Brisbane architect Tony Dempsey, who has owned the home since 1997 and says it is the first time that he hasn't lived in a house that he didn't design himself.
Now, the prestigious home is ready for a new owner and presents an opportunity to nab the last remaining slice of north-east facing waterfront land in New Farm. The history is well represented in the wide verandahs, original stained glass, timber floors, gardens on the water's edge and compass points on the front path. The back steps even have a mark for the level of the 1983 Brisbane floods.
Positioned on an extraordinary 2127sqm of private riverfront land with 30 metres of frontage across 3 lots, Amity House represents the opportunity to purchase a generational asset and landmark estate. The owners are also offering the potential to purchase a vacant 672sm2 block of land separately allowing the discerning buyer the opportunity to develop what is the last remaining North-East facing riverfront block of land in New Farm and build their own dream home.
The Estate is For Sale with Heath Williams and Judy Goodger of Place New Farm.
At Place Estate Agents, we're dedicated to providing you with the latest and greatest in Brisbane real estate. If you'd like to stay up to date with all things Brisbane real estate and more, including the latest Off-Market properties, subscribe to our weekly eNewsletter below.