Grand, elegant and intelligently designed, Queenslanders have remained a favourite with buyers for centuries. Renovating a heritage build? Not clued-up on what exactly makes a Queenslander? We've gathered a collection of need-to-know details to make things easy for you…
Stumps
Cleverly crafted to maximise airflow in as many ways as possible, Queenslanders are generally built on stumps so that they 'touch the earth lightly'. Not only is this a smart method of ensuring air ventilation, but it also makes it much easier to build a home on variable terrain and avoid potential flooding. Today, many homes have been raised and constructed underneath to create bedrooms and/or extra living areas.
Verandahs
Imagine sitting on a breezy verandah, admiring the picturesque outlook while sipping something delicious – that has to be everyone's dream, right? Synonymous with Queenslander homes, wide covered verandahs were originally added to residences to essentially extend living space and create somewhere cool to relax. Some are open, whereas others have been partially 'built in' to shade from sunlight.
Breezeways
As their name might suggest, breezeways invite refreshing breezes and natural light to flow throughout a home. What are you looking for exactly? Keep an eye out for the spaces above internal doors that typically showcase timber fretwork or sometimes louvered windows. Not only do these look utterly stunning and add character to a property, they're also wonderfully functional!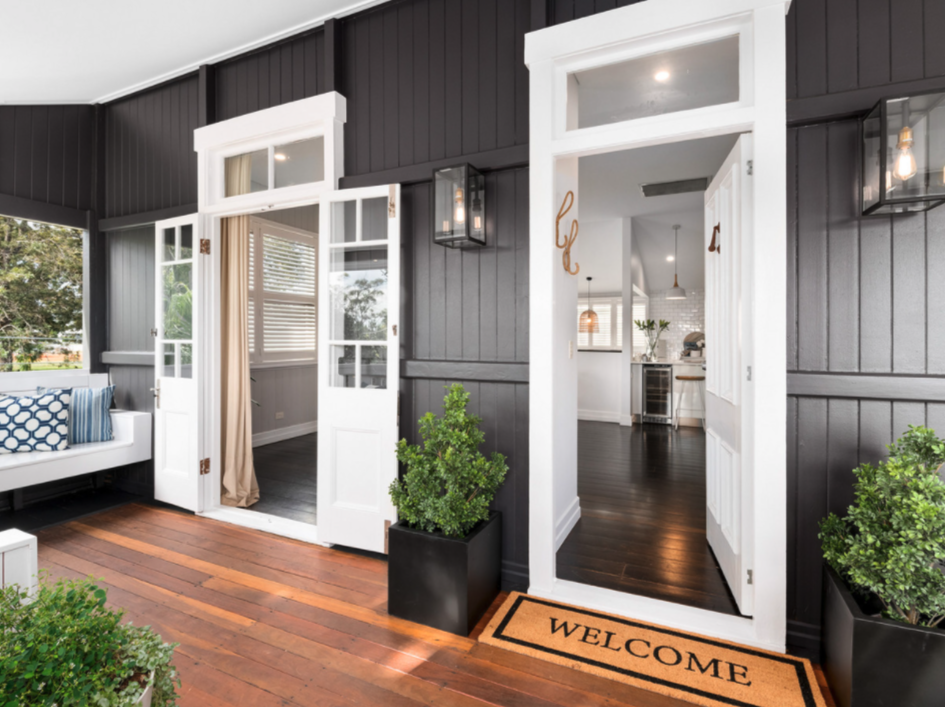 15 Rowland Street, Coorparoo. For Sale with Shane Hicks.
---
VJ walls
One of the most defining features found in a Queenslander home, VJ (vertical join) walls are a decorative touch that give a residence personality. Created by layering timber or MDF fibreboard slats along walls, this architectural detail is a quick way to make your property look truly timeless. Achieving a similar effect, HJ (horizontal walls) are also popular.
Ceiling roses
Made from moulded plaster, ceiling roses are an exquisite decorative touch often situated in the centre of a ceiling (hence the name). Their purpose, other than to look stunning, was to obscure the fixings for pendant lights.
Plaster moulding
Adding detail to ceiling roses and cornices, plaster moulding involves painting and shaping plaster onto a surface in a decorative way to create instant grandeur. This form of craftsmanship can feature a range of motifs – from vines and blossoms to geometric shapes and sharp lines.
French doors
Undeniably beautiful, these types of doors are crafted with banks of glass that allow natural light to fill a home's interiors. Comprised of two doors that open outwards on a hinge, French doors exude old-world refinement while keeping electricity costs for lighting low – tick and tick!
Plantation shutters
While not exclusive to Queenslanders, plantation shutters work wonders for residences in tropical climates and look incredibly charming. Made from slats of timber or even painted metal, this style of window treatment can be angled with ease to control light and airflow.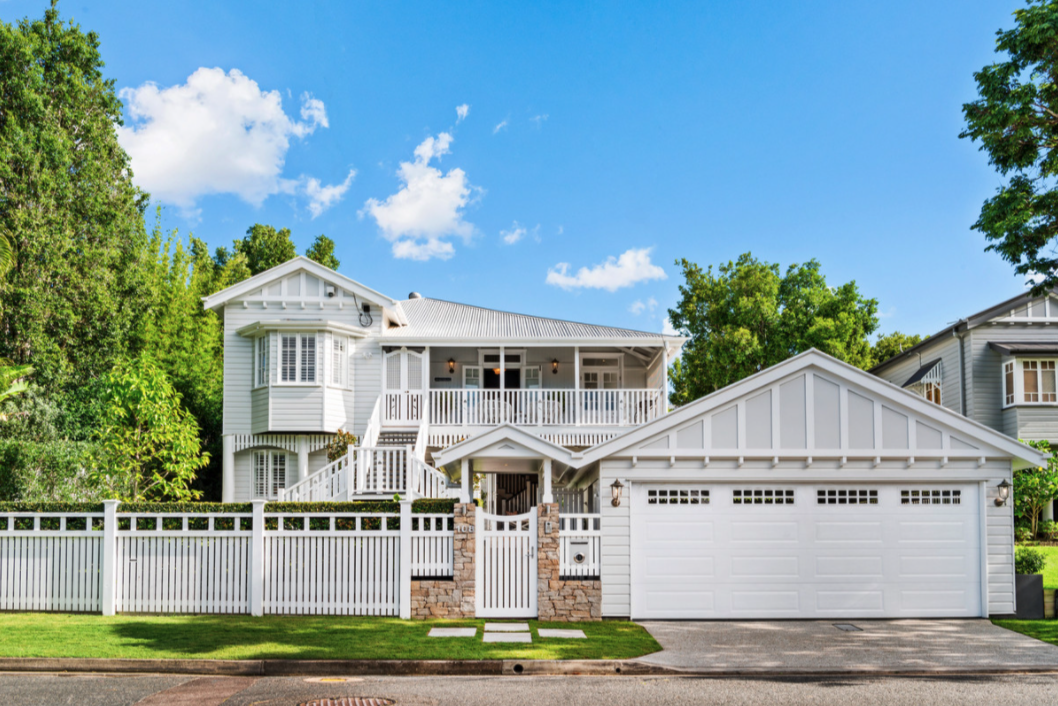 ---
Gables
At its heart, a gable is the triangular upper section at the end of a ridged roof. An effective solution for stopping rainwater from pooling, this architectural feature also gives a home remarkable street appeal.
Latticework
Much like with plantation shutters, latticework is an aesthetically pleasing way to both shade a residence and filter in natural light and breezes. An open framework created by layering strips of building material in a cross-cross pattern, this magnificent detail is generally added to verandahs and sunrooms.
Bay windows
Projecting outward from a home's main walls, bay windows encompass a collection of three windows and form a 'bay'. Not only do these maximise natural light, they also make a room appear larger and allow you to fully appreciate a scenic view.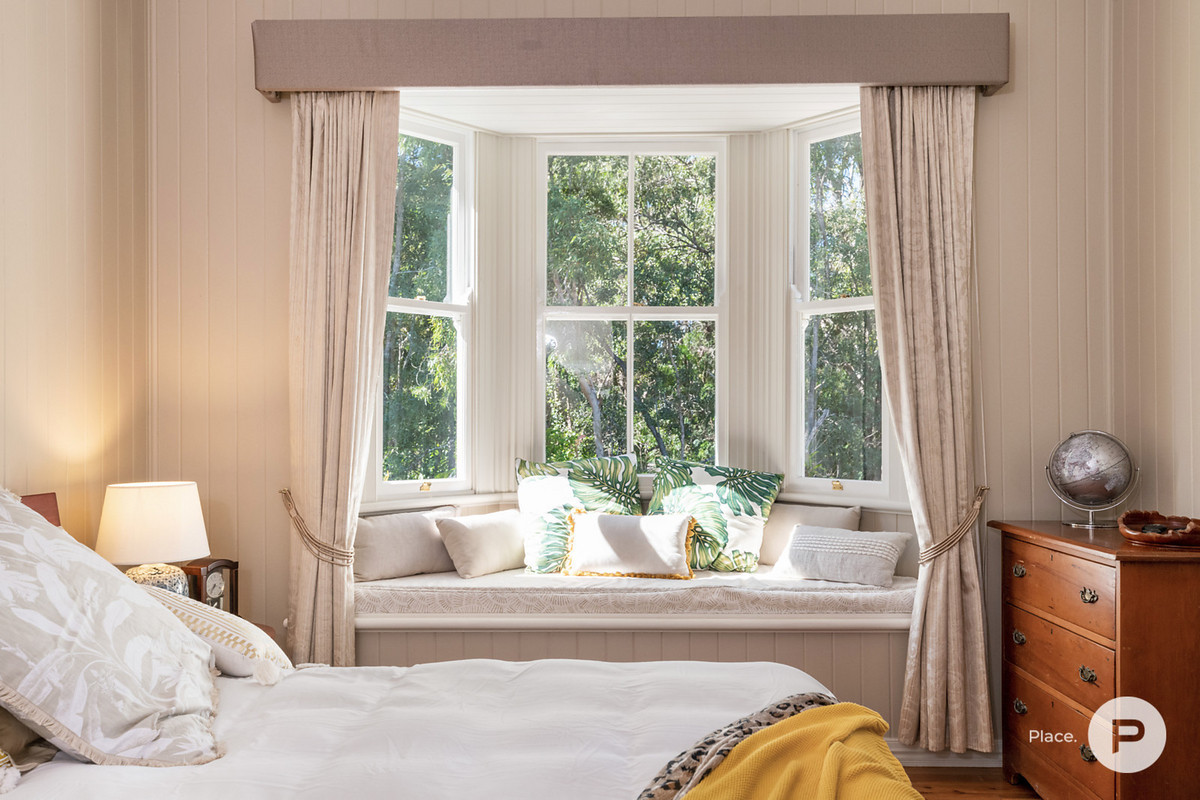 94 - 96 Collingwood Road, Birkdale. For Sale with Sarah Hackett.
---
Window-seats
Doing what they says on the tin, window-seats are booths built into a room's recess and are framed by windows. These beauties can serve as reading nooks, under-seat storage and just as cosy resting spots. How delightful…
Sunrooms
A fusion of heritage and modern architectural styles, sunrooms are typically sections of original verandahs that have been enclosed to add another living space. Lined by walls of windows and bathed in natural light, these spaces are today popularly used as a study, office, children's playroom or even as a dressing room.
Leadlight windows
Not unlike stained-glass windows, leadlight windows are made up of small sections of glass that are encased by a lead frame. These don't always have to include coloured glass; clear varieties also have great impact and can be found in both wall windows and around front doors.
At Place, we're passionate about all things property, and helping people in their own property journeys. For more ideas and to keep up-to-date with all things Brisbane real estate, subscribe to the newsletter below.