Creating a space in your home to enjoy hobbies and passions is imperial for many, but for Avon and Helen Phillips, designing their bayside home revolved around personifying the ethereal feeling of music.
From the outside, 20 Tamaree Avenue, Wynnum presents itself as a welcoming, family sanctuary, however upon entering the Brisbane bayside home, visitors are mesmerised by the adobes musical story.
"In 1999, we were living with Helen's mother who at the time, was battling cancer. When she passed away, Helen said we can't live here anymore and asked if I would go out and find a home," Avon said.
"I went out with a real estate friend of mine, walked into the house, up the stairs and out onto the golf course and I said, ok, here's my offer. He said, don't you want to ask your wife? I said no, she will love it! Then, when Helen did walk through the house, she did love it!
"One day we were sitting around having a coffee and we thought, what did people do in the 1800's for entertainment before we had television and radio and all that sort of stuff? We thought, well, they probably would have had Beethoven over and they would have had a soiree and I thought, what a great idea!"
In 2010, the married couple of 26 years began orchestrating musical soirees in their home known as 'Soirees at the Imperial Room', a place where music lovers from around the world could meet and share their passion.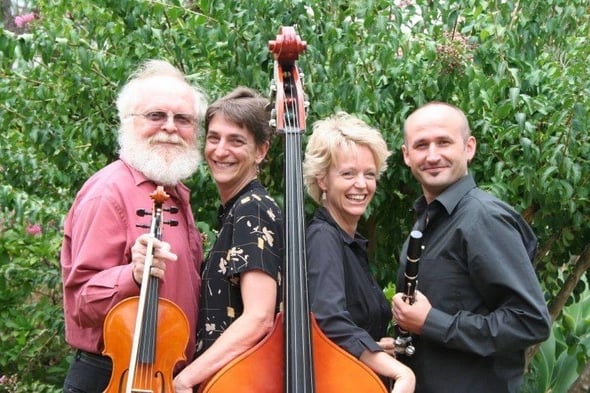 "We designed the whole house around music and have a big area where we could have up to 100 people in our living area. We would collect a little donation at the door and ask budding musicians from universities and conservatoriums to come and play. We would put on all the food, but every cent that was collected at the door would go towards the up and coming artists."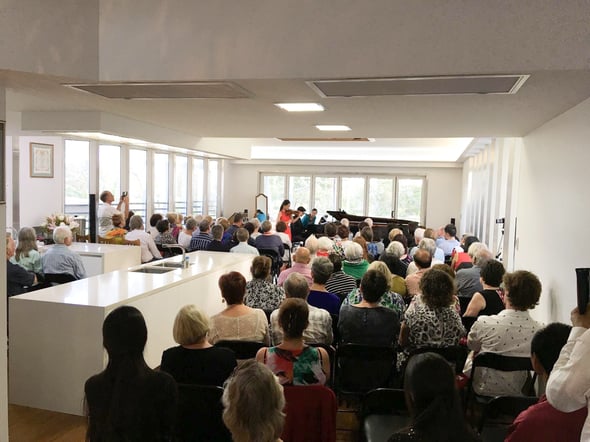 Avon and Helen held at least one soiree a month from 2010 to 2018, but sadly, had to retire their parties due to Helen's medical condition.
"Helen was diagnosed with Alzheimer's a few years ago…she's a solider and she bravely fights on," Avon said.
I've stopped working to be completely with Helen which is why we are selling. Helen is more important."
Amorous about music from a young age, Avon and Helen both played piano during their childhood and Avon used to play trumpet in their local church with his dad. The pair wanted to share their love of music with the world and hoped to create a welcoming, musical space in their bayside home.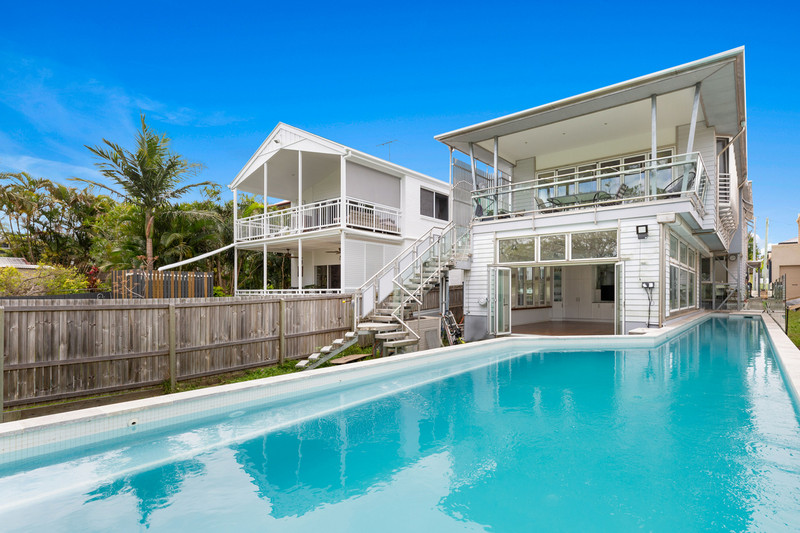 "There's not much to not like about the home…The golf course out the back, the magnesium pool down the side, the billiard table and the musical element," Avon said.
"What we wanted to do with the home was make it interesting. From the outside we didn't want it to look ostentatious, but everywhere you looked we wanted there to be something interesting."
"I always had the opinion that our home should be a space where music and art could be completely integrated with engineering.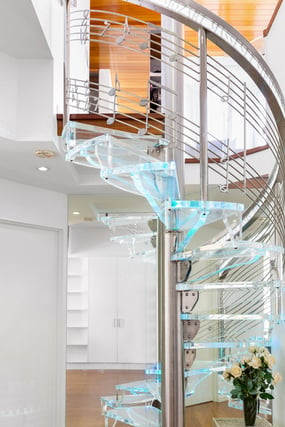 There's music written on the handrail on the glass staircase, but it only goes halfway down. If you can read dots it goes 'duh-duh-duh-duuuh'. I can't steal Beethoven's Fifth [Symphony], but I can steal his unfinished fifth…"
"There's also a copy of an F hole from a 1710 thin Stradivarius Violin on the ceiling that doubles as an aircon...When a musician sings or plays under it, it creates a resonant magnification of sound that goes equally around the whole upper level. The sound doesn't escape too much though because the whole house has double glazed windows and is sound damped…we didn't want to annoy our neighbours."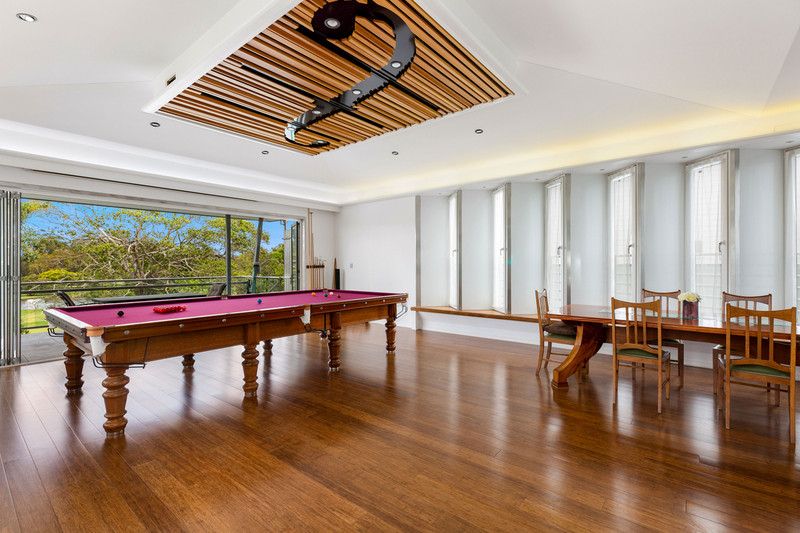 Owners Avon and Helen are selling their beautiful home at auction with Lead Agent of Place Gumdale, Jacqui Brown during Place's Auction Xtravaganza event, December 1-5.
"We decided to sell at auction with Jacqui's guidance. We got a phone call from the lovely Jacqui, and she was so calming in her mannerism and way. Being somewhat reluctant to sell, it calmed my fears and as we discussed everything in more detail, Helen and I felt very comfortable in her hands."
Jacqui Brown commented on the uniqueness of the home and noted that the new owners will be drawn to the space of the abode and its beautiful outlook.
It's a very unique home and I haven't seen anything like it in my 20 years in the industry… It's a wonderful space for entertaining with a great kitchen and an amazing pool," Jacqui said.
"The new owners will be drawn to the space and the beautiful view of the Wynnum Golf Course. The house is located at the first tee-off and there is a lake behind that tee. It's a very beautiful vista. There's only 22 homes that back onto the golf course.
"We're in a market where there are a lot of people looking. I've had a lot of enquiry form Sydney. I just think auctions, given that I've already received two offers on the property, that going to auction is the most transparent way to sell property.
20 Tamaree Avenue, Wynnum will be sold at auction at Place's Auction Xtravagaza event on Saturday 4th, December, 12.00pm onsite.
For more details on Soirees at the Imperial Room Click here and to stay up to date with Place's Auction Xtravaganza event and Brisbane real estate, subscribe to our newsletter below.