There's nothing quite like opening the door to your first brand new home. Perhaps the reason it holds such great significance is due to the often strenuous process the outcome entails.
There's no denying that this process can be both as long and arduous as it is risky, so it's critical to minimise the risk by preparing for obtaining your first home loan. We've narrowed down the basics of exactly what you need to know and do to keep you in the best position possible to secure your loan and achieve this dream. So, where do you get started?
Figure out where you're at right now
Your financial status will make or break this journey, so it's important to start with a clear picture of your current position. Look at your savings and assess how much money you have available for a deposit on your home, as well as your earning capacity, expenses and ability to continue saving. Consider also whether you are eligible to receive assistance from the Government. The First Home Owners Grant along with the First Home Super Saver Scheme are two current initiatives that support first home buyers in their journey to pay for a house.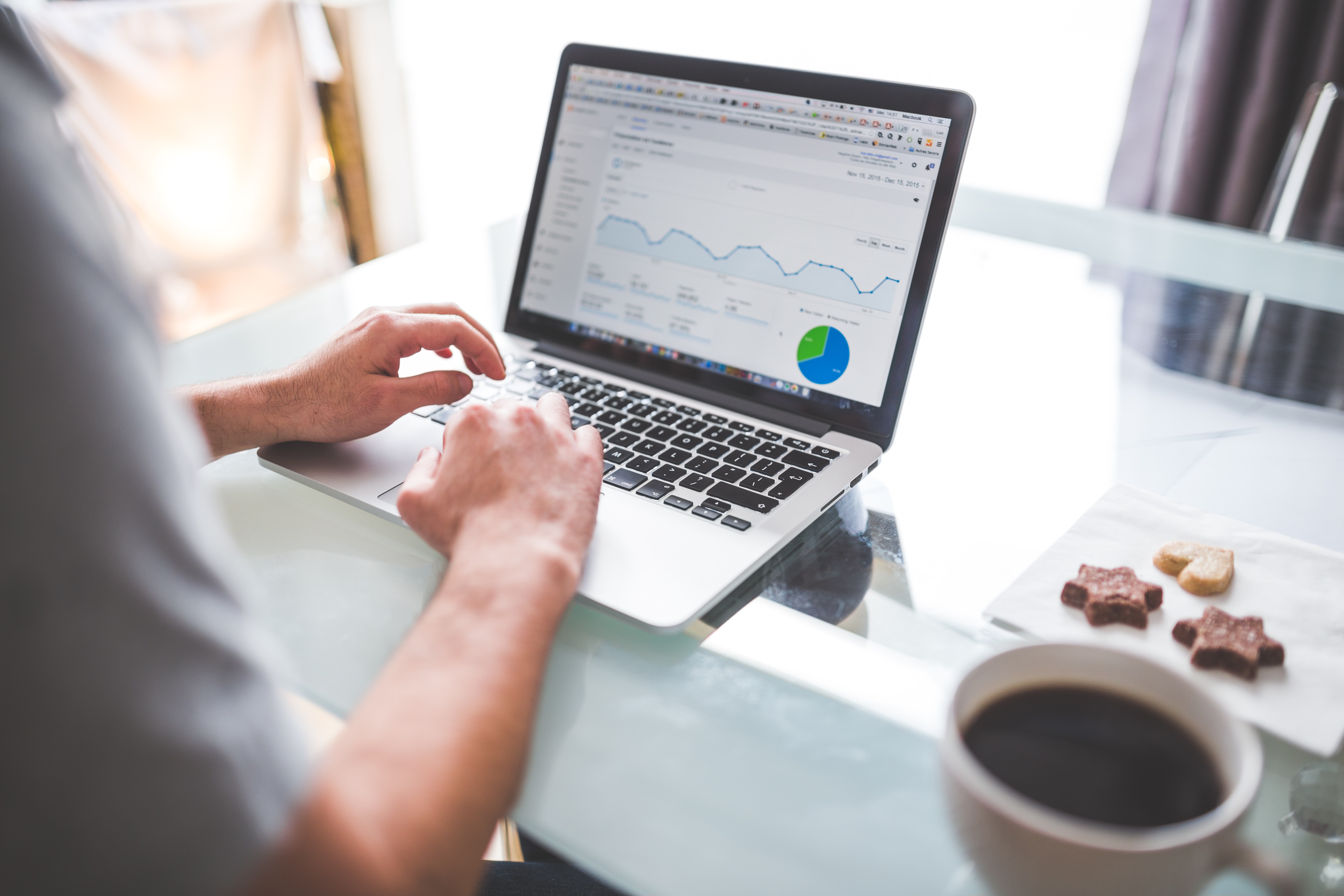 Creating an initial budget to view your financial health is a great way to get a quick and easy glance at this information. Luckily for you, many financial institutions have done all the heavy lifting on this matter, and have created simple budget estimators and calculators to aid your decision making. These tools are also handy for making sure you're prepared before you visit a bank or lender, and even getting pre-approved prior to finally applying. TIME Home Loans have created a series of financial calculators to narrow down your budgeting and saving capacity, so you can get an accurate picture of your current situation with ease.
Consider all your options
After you have a clear idea of your current financial picture, it's worth looking at the average property prices in the area you wish to buy in. Knowing the area you'd like to buy in and the average property values will help you determine the best financing option for you. Chances are that you will need access to more money than you have initially saved; this is where a home loan comes into play.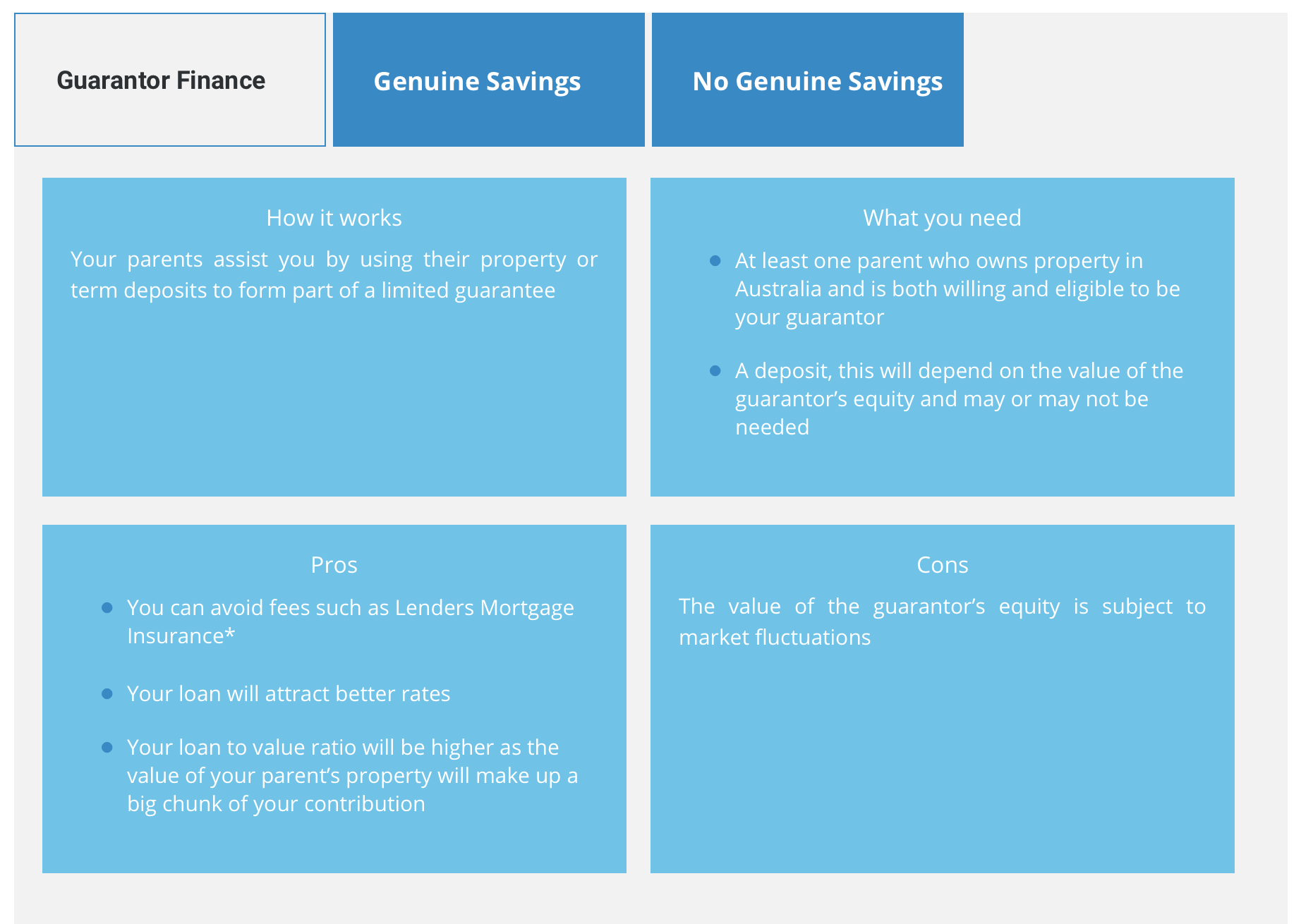 source: https://timehomeloans.com/first-home-buyers-home-loan-brisbane/
Generally, there are three ways first home buyers can obtain a home loan: through guarantor finance, genuine savings, or no genuine savings. These options are based on your financial position, and your ability to support your future self. Guarantor finance operates through another party assisting you in using their property or term deposits to form part of a limited guarantee. This can attract better rates, and also prevent the need for Lenders Mortgage Insurance (LMI); a one off fee that covers the lender against the possibility you might default on your loan repayments. The other options are quite different to this approach, and sound exactly as their respective name suggests. Genuine savings works on your hustle and budgeting skills, with the end-goal of affording the full deposit. This is also very favourably looked upon, also attracting fair rates and gives you complete independence. This leaves no genuine savings as your last option. If you don't have genuine savings you can receive a non-refundable 'gift' from family or friends which can help you make up the 5% initial deposit¹. While quickening the approval process, you may be at risk of over stretching your finances, and you'll be liable for LMI as a result.
Additional considerations
Let the house hunting officially begin! You've probably already had a quick look at different areas you'd like to buy a house in and the values of properties in those areas. Things start to get more serious now that you know what financing options are available to you. At this stage, start looking at properties and assessing if they come with any hidden baggage that you'll have to pay for, such as stamp duty, LMI, legal fees, building and pest inspections, home and contents insurance, property valuations, moving and legal costs². Make sure you factor these in so your home loan covers the full cost of your property. Choosing the right loan is just as important as choosing the right home.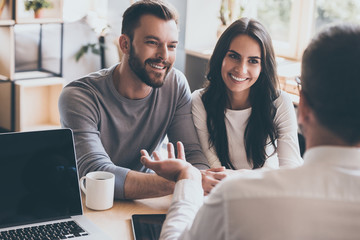 There's no doubt that this can be a daunting process, especially is it's your first time doing so. However, you can make this process short and sweet by doing due diligence in research and approvals. Reach out to people you may know that have recently gone through the process, and get in touch with the experts to further aid your experience. If you'd like to speak with someone about securing your first dream home and loan, we're always here to help. You can also subscribe to our newsletter below to get access to even more tips and news for all your real estate needs.
References:
1. https://timehomeloans.com/first-home-buyers-home-loan-brisbane/
2. https://www.qld.gov.au/housing/buying-owning-home/financial-help-concessions/qld-first-home-grant/apply-first-home-grant