"l met with the team at a time where there wasn't an open position and was told they would keep me in mind should the perfect role for me arise. It was so genuine, I truly felt they were in my corner. Then, I got the call!"
Alex Duce recently joined the team at Place Graceville after being referred to the Career and Development team by a friend.
We spoke to him about his onboarding experience and life at Place so far!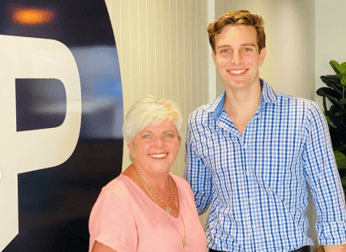 "At the time I was already working in Real Estate but wanted to join a reputable and respected brand to take the next step in my career. A friend of mine referred me to the career and development team to get the ball rolling. After meeting Bronte and Tatum for an interview, I knew Place was where I wanted to be, and I appreciated that they valued finding the right role for me within the organisation.
Soon after, Lead Agent Karen Simons was in contact with me. We spoke on the phone, then met at a local café and she offered me the position as Sales Associate within her team!
My first day started with Orientation at HQ - which also happened to land on my 21st Birthday! The orientation itself was incredibly informative and I was grateful to gain a comprehensive understanding of Place and mingle with the other new starters. My onboarding experience has been so professional and put me in the best position to hit the ground running at Graceville.
The atmosphere at Place Graceville is awesome - you can see why everyone enjoys coming to work! I feel so supported by the whole team. Despite working in a business that manages a lot of people and services, I feel like I have joined one big family, as opposed to a workplace.
I'm really looking forward to getting to know everyone at Place, getting stuck into the training and events and working with Karen to grow her business.
I know this is only the beginning and I'm so glad I have found my happy Place! Thank you to the entire career & development team."
Our team take great pride in their recruitment and onboarding experience as well as the ongoing support provided to every Place person. A positive and dynamic culture has been key to the success of Place. We want our people to feel inspired, supported and valued in their roles and recognise that to be successful, it's important to have fun along the way.
If you're interested in a fulfilling career at Brisbane's Real Estate Agency of choice, click here! This could be the start of something wonderful...