There's no doubt that Instagram has become an invaluable tool to connect local businesses directly to their customers, offering a snapshot of a brand to millions of active users
—

including your own personal brand.

With over 25 million + businesses on the platform today, there's never been a more crucial time for you to ensure that your profile follows a well-designed and thoughtful profile to help you stand out from the rest.

To do this, you'll need to apply a strategic design plan to your brand's Instagram to attract a loyal following and find success in the long term. We've all seen what an amazing profile looks like, with a clean and slick timeline of photos that follows a general and on-brand theme, but perhaps more importantly, we've likely come across one that doesn't look as great... Don't be the brand!

Creating a clean and cohesive Instagram feed takes design skills you might feel you lack, and the platform's algorithm favours brands that post at least once a day to keep content fresh and flowing for all to see -- that time can add up, and you may not have the creative and practical capacity to add to your busy schedule. If this sounds like you, then there's no need to stress. There are ways to create pre-made Instagram post templates so you've got a fresh stash ready-to-go. Plus, by ensuring you use the same template across multiple pre-made posts, you'll have an ester time creating a more consistent and aesthetically-pleasing feed.
Use Instagram Post Templates
If you don't have the time, resources, or personnel to design noteworthy Instagram posts for your personal brand, there's no need to be ashamed. We recommend using pre-made Instagram post templates for business which you can build from and customise. These are simple to use, and gets the right message across in a concise, yet elegant manner. Check them out below.
Use both Post Formats
Even if you're fairly new to Instagram, or haven't ventured too far into the social media platform, you may have come across Instagram Stories at some point during your experience. It's important to recognise the importance behind this post format, which offers a short burst of content (picture or video) for no more than 24hrs from posting. These are great for more immediate needs and occasions. In fact, over 500 million users publish story content everyday. Don't stress though, because we've got templates for both traditional posts, and Stories.
Choose a great Image
A picture paints a thousand words, and this is especially true on the world's most accessible picture gallery. You've probably got access to a million and one photos straight from your phone's photo album, so choose one that resinates with you that you'd like to share. If no one immediately comes to mind, perhaps go out and explore your inner photographer, or better yet, use a photo from your company's files. This works well if you'd like to utilise team photos, or professional brand photography that promotes both your personal brand, and the brand you're working for (if you are).
Whichever photo you do decide to use, simply replace it as the background for the template you're using and resize to your liking.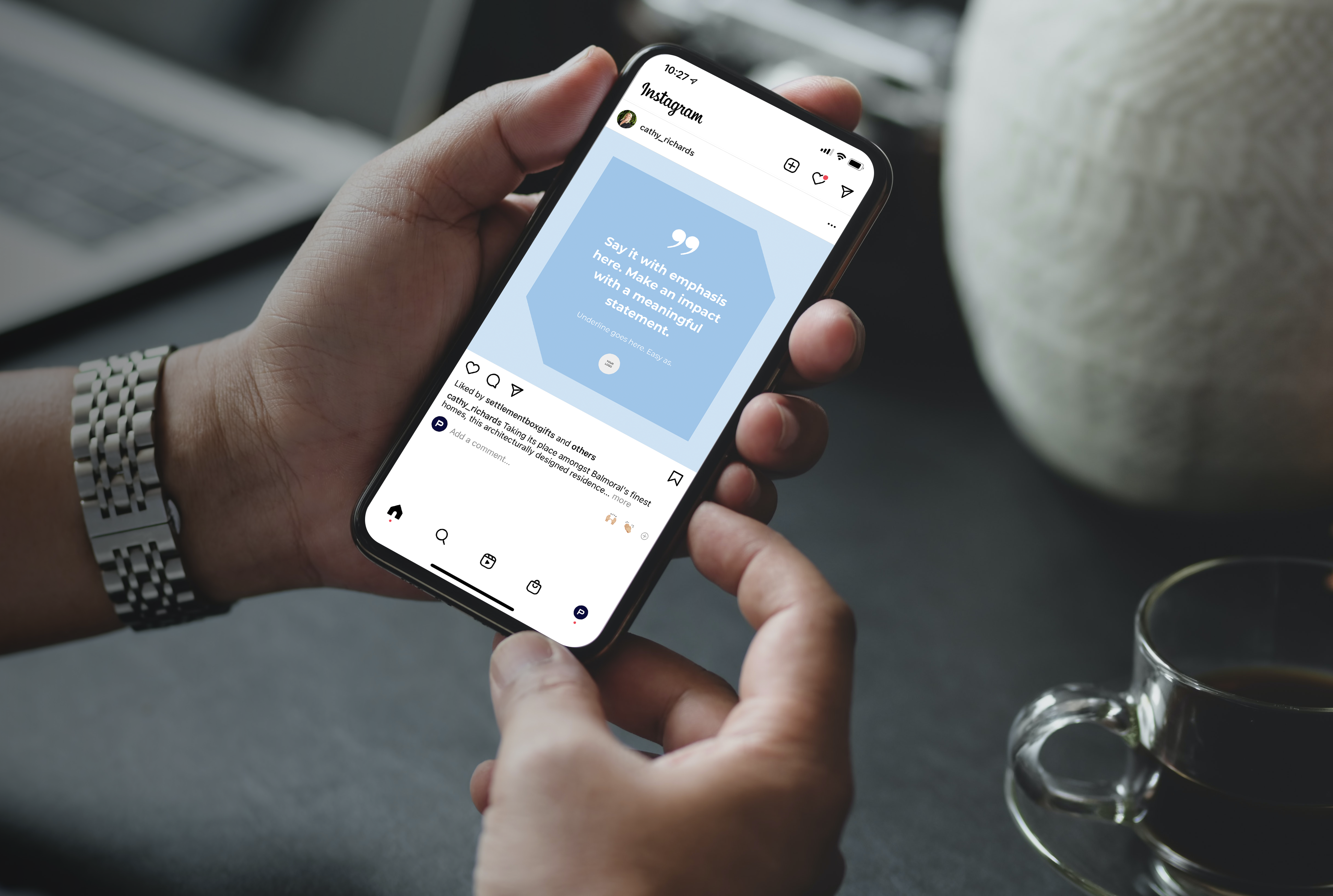 Add Design Elements
Our Instagram post templates feature design elements to add that extra something to your posts and engage your audience. These include placeholders for text, highlight shapes and other elements. These can be good for communicating a client testimonial for example, or highlight a critical piece of information relating to an event, open career position or sale price achieved.
Save & Upload
When you've finished with your masterpiece, you can save your templates to any device by clicking "File" > "Download" > "PNG Image" or "JPEG Image." Then, transfer the file to your mobile phone (via email, test message, AirDrop, Dropbox etc) so you can upload it via the Instagram app.
Now it's time to share your creation with the world! Post it to Instagram with a fitting caption, and any relevant hashtags that symbolise the image. You can also choose to add a filter or adjust any of the finer settings before posting.
For an Instagram Story, click on the camera icon on the top left of your screen, then the "+" button. Choose your photo from wherever it was saved to (camera roll, files etc) and click "Your Story" to publish.
Other ways to create Instagram posts
If you do find yourself having a little more time on your hands and you're looking to test your design skills, there are tools out there to get you feeling like a proper designer. Online platforms such as Canva have been specifically designed to help you create graphic designs fit for any purpose.